The $1-billion desalination plant coming online next month in Carlsbad will fit right in with years of careful planning and investment in water supply in San Diego County. It will also worsen a peculiar San Diego problem amid a multiyear drought: an oversupply of water.
Morgan Cook | LA Times | November 15, 2015 | Access Original
Unlike other parts of California, San Diego has 99% of the water needed for normal usage. But statewide conservation mandates have applied equally to areas that have plenty of water and those that don't, so the result here has been water piling up unused while local water agencies raise rates to make up for lost sales.
Carlsbad Mayor Matt Hall, a San Diego County Water Authority board member, said the situation is hard to explain to his constituents.
"It's real hard to tell them, 'You have to let your grass die,' and in the same breath you have to tell them, 'We have more water than we can use, '" he said.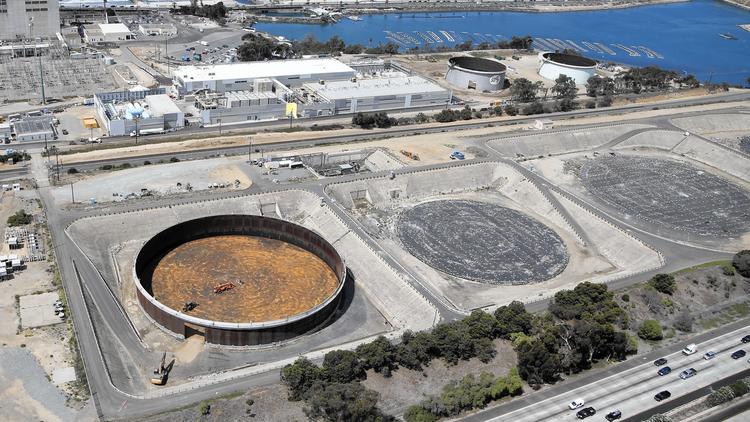 Enter the desalination plant. The private venture kicked off a 30-day test period Nov. 9 and is expected to start producing water next month, enough to meet between 7% and 10% of the county's demand. Water officials agreed in 2012 to buy the water whether they need it or not, to make the plant financially feasible.
The new supply is just one more reason local water officials are advocating for the state to ease conservation mandates for areas where supplies are ample, which would lessen the oversupply.
The desalinated water will be more expensive than the county's current supplies, triggering $5 a month in increased water rates for most households. As the more expensive water arrives, it will have implications for the water authority, which recently has had to cut back on purchases of imported water it's entitled to on a temporary basis.
Next year, the desalinated ocean water will cost San Diego water agencies at least $113.6 million — more than double the $45.2 million they would pay for the same amount of imported water, which remains available despite a statewide drought.
Even before that water comes online, San Diego has been running up against storage limits.
Given the combination of conservation and steady supply, the county water authority socked away 13.7 billion gallons in the newly expanded San Vicente reservoir, filling it to its temporary limit, officials said.
While awaiting certification to put more water behind the dam, the authority purchased 9.8 billion fewer gallons than it was scheduled to buy from the region's wholesaler.
The water authority got state permission to resume filling the reservoir.
At the same time, water bills have increased as providers try to cover the lost sales revenue that paid their systems' fixed costs. To some extent, rates have been driven even higher by the continuing costs of infrastructure, including the desalination plant.
Sandy Kerl, deputy general manager for the water authority, said the desalination plant is a long-term investment.
"We have a need for this water, and this reliability now and in the future," Kerl said. "Being in this unprecedented situation has sort of distorted the picture. To do a project like this, which is what we consider part of the core supply that will be used to service the region, it's not a shut-on-shut-off sort of situation."
Interested in the stories shaping California? Sign up for the free Essential California newsletter >>
Critics of the desalination plant have questioned whether the county made a good deal when it negotiated terms with the owner, Poseidon Resources, in 2012. Some say Poseidon should have taken the financial risk instead of ratepayers.
"We told you this was a boondoggle from the beginning," said Marco Gonzalez, an Encinitas attorney who represented Surfrider in its legal battles to stop construction. "We moved too fast into a giant corporate welfare scenario."
Water officials said the authority's backing saved ratepayers about $200 million in financing charges. And it took no more risk than necessary to get the project built.
"A large, modern technologically advanced desalination project like the one in Carlsbad is not financeable without a secure, financially viable customer for the water," authority spokesman Mike Lee said by email. "It is the take-or-pay contract with the water authority that made the project financially viable."
Lee said the authority expects the cost of treated imported water to surpass the cost of desalinated water by 2030.
Cook writes for the San Diego Union-Tribune. [email protected]